12Aug2009
Filed under:
Masala Mar-Ke
Author: maddy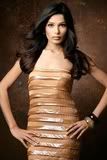 Slumdog Millionaire actress Freida Pinto is likely to become the highest paid Indian actress in the world. Soon after the eight Oscar winning performance in Los Angeles, a spokesperson announced she had signed up for Woody Allen's next film. She will join A-list Hollywood stars such as Naomi Watts, Josh Brolin and Anthony Hopkins for the yet untitled project, which will be filmed in London.
Interest in the actress remains sky-high as she adorned the front cover of Vogue India this month. Industry sources say that the expected income of $2m to $3m for the film will propel her to the top of the earnings scale among Indian actresses. She said in an interview: "For someone like me with no godfather in the film industry, it was easier to break into modelling. I did use modelling as a means to get into the film world. I enjoyed modelling. It taught me a lot in terms of being confident and definitely helped me prepare for what was to come next," she added.
Her co-star Dev Patel isn't doing so bad either. The media reported last week that he had signed for M. Night Shymalan, of Sixth Sense and The Village fame, for his his next project. Based on a popular martial arts cartoon – The Last Airbender – it will involve a lot of CGI. "It sounds like a good project. I love martial arts like Bruce Lee and Jet Li and I'd love to try something physical,"  Dev told a reporter last week. M. Night Shyamalan said: "He was already one of the guys I was interested in. Then I saw Slumdog Millionaire, and the kid just grew in my eyes."  The Last Airbender begins shooting in Greenland in March and is scheduled for release in July 2010. It is the first of a planned trilogy. ~~~~~ Hmm, don't know if this is true, because I'm sure Ash would've gotten at least a couple of million dollars for Pink Panther. Anyone know?